Review of South Pacific
Published:

Saturday, October 4, 2014
By:

Michall Jeffers
onstage.
Alison T. Chi may be the loveliest Liat ever, but it's more impressive that she brings real joy to the very young girl who falls for Cable. Their scene together is also outstanding for Zach Trimmer, who hits the high notes with ease, and brings real passion and exultation to "Younger than Springtime."
There are some misses in this production. We're used to seeing Nellie actually wash her hair onstage; it's one of the delights of the show. Here, she merely soaps her wig, then rings it through a towel. Better to cover up the shower completely, and have her wet her hair before she comes out. Why let the audience observe her taking off her microphone, when a few more boards at the bottom of the shower stall door would eliminate the problem? The costumes could definitely be more flattering; I wish they were as graceful as Ms. Swindal's dainty ankles.
South Pacific has lost none of its enchantment through the decades. For a further journey into the bygone era it depicts, I recommend reading James A. Michener's Pulitzer Prize winning novel on which the musical was based. Treat yourself to discovering the other characters in his "Tales from the South Pacific" and learn how the original Nellie, Emile, and Bloody Mary evolved. As the veterans of World War II are aging and passing on, it's a privilege for us to remember what the Greatest Generation had to endure to preserve our freedom.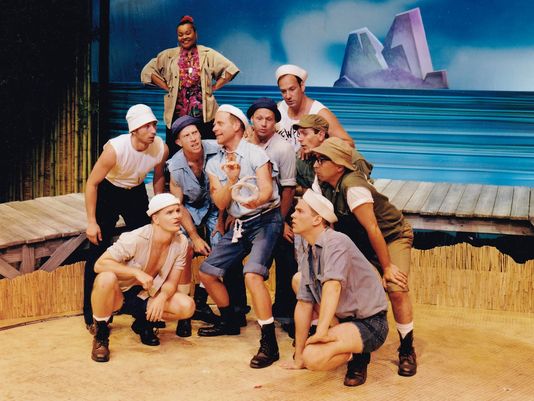 Cast:
Haley Swindal (Nellie Forbush); George Dvorsky (Emile de Becque); Zach Trimmer (Lt. Joseph Cable); Bill E. Dietrich (Luther Billis); Joanne Javien (Bloody Mary); Alison T. Chi (Liat); Brian Michael Henry (Stewpot); David Cantor (Commander Harbison); William Richardson (Professor); James Van Treuren (Brackett); Kyle Arzaga, Daniel Ward (alternate Jerome); Kaeleigh Picco, Isabella D'Erasmo (alternate Ngana)
Choreographer: Michael Lichtefeld
Musical Director: Leo Carusone. Set: Steven Loftus; Lighting: Andrew Gmoser; Costumes: Derek Lockwood & Roberto Silva; Sound: Jonathan Hatton;
Critic: Michall Jeffers Date Reviewed: October 2014